Time sure flies so fast as we are only days away from the much awaited K-Pop Republic 2, happening on October 28, 2017 at the Circuit Event Grounds, Makati. This year's line-up is definitely exciting as we will get to see performances from NCT 127, WSJN (Cosmic Girls), GFriend, and N.Flying.
Out of the four artists, N.Flying is noticeably the only band in the bunch. While they sound unfamiliar to most, they have actually been around since 2013 (so they're basically 'sunbaes' to the other artists). Also, they are labelmates with other household Korean bands, FTIsland and CNBlue; sexy girl group, AOA; and talented rookie group, SF9.
But what can we expect from this fun and dorky band? We give you four reasons to make you excited for their stage at K-Pop Republic 2:
Their hip-hop- and rap-infused rock sound
Who says you can't put hip-hop and rap in rock music? N.Flying show everyone how it's done because it has been their signature sound since their debut in 2013. Before making themselves known in Korea, they first debuted in Japan as an indie band with Basket. The song landed them #2 in Tower Records and Oricon Daily Indie Chart. Talk about monster rookies!
N.Flying finally entered the Korean music scene in May 2015 with the song, 기가 막혀 (Awesome). And well, what more can we say?
Other music recommendations are 1분 (1 Minute), 다행이야 (I'm Okay), 가슴이 놀래 (Heartbreak), Lonely, and Endless Summer.
The visual game is strong in this one
What's with FNC boys that everybody just looks so handsome? Seriously speaking, everyone just looks good. Check out their profiles:
Lee Seunghyub (Leader)
Leader Lee Seunghyub is talented in so many ways – he sings, he raps, he plays the guitar, and he plays the piano. Although the group specializes in hip-hop rock, he is particularly interested in classical music. (A man of refined taste, I should say.)
Prior to N.Flying's Korean debut, Seunghyub appeared with different FNC artists. Spot him in the music video of Pretty Boy by former FNC artist, Juniel.
He was also known as J.DON in FNC's N Project with AOA's Jimin. Check out their hot chemistry in GOD:
Kwon Kwangjin (Bassist)
We've heard of stories of idols with long training periods, and some of them are particularly long. Bassist Kwon Kwangjin trained under FNC for 10 years – longer than most senior groups in the company. Interestingly, he was also supposed to debut in CNBlue but withdrew from the said band in 2009.
And can we say that he once had the most beautiful hair?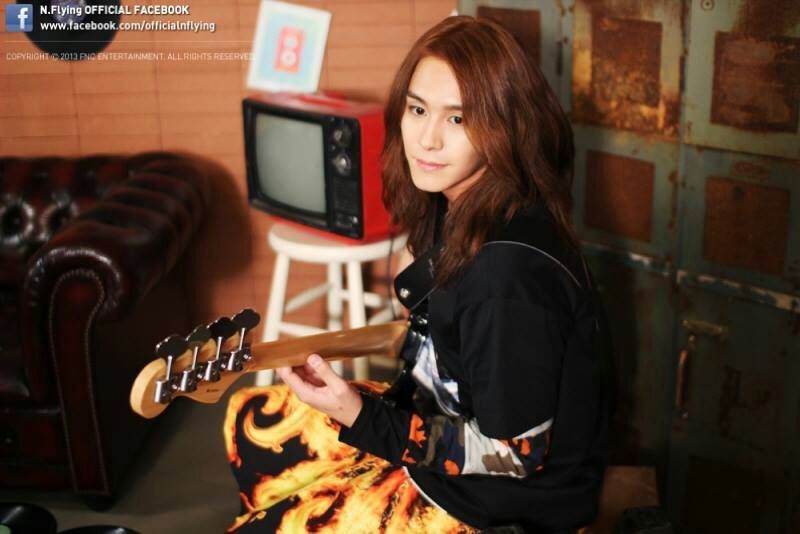 Hoon (Guitarist)
Are you a cat lover? Then you would probably adore Hoon, who loves cats, has a cat-like personality, and even sleeps in kitty pajamas! Contrary to his serious look, he actually is a softie with a big heart and loves to cook.
Kim Jaehyun (Drummer)
Did you know that this young and handsome drummer has a celebrity sibling? Jaehyun is actually the younger brother of former RAINBOW member, Jaekyung! These gorgeous siblings are so close that Jaehyun admitted that he saved her number as "Goddess" in his phone contacts, and that he folded 1000 paper cranes for her birthday back in middle school! (Awww…)
Jaehyun comes in second to the most number of training years  (9 years to be exact) and was initially set to debut with CNBlue.
In 2016, Jaehyun performed alongside ASTRO's Cha Eunwoo, Day6's Young K, Super Junior M's Henry, and B.I.G.'s Benji for a lovely rendition of Justin Bieber's Love Yourself.
https://www.youtube.com/watch?v=FHHVFYAsyBQ
Hoe Seung (Vocalist)
For those who have watched Produce 101 Season 2, you might be familiar with Hoe Seung. He was "Mr. No. 39" when the Top 35 were selected. He joined N.Flying in June 2017 in time for the group's comeback with The Real.
An interesting fact about Hoe Seung is that he has already completed his military enlistment, so no worries about not seeing him for a couple of years.
And can we just say that he has a striking resemblance to INFINITE's Woohyun? (Sounds like him too. Trust us on this one.)
They're hilarious
The boys of N.Flying actually show their funny side in the music video for their latest single, The Real. They have a special guest in their video so make sure you watch until the end!
These boys starred in their own reality show, One Night Study, two years ago and they were totally hilarious. We absolutely need a Season 2!
Their impressive covers
N.Flying has done numerous covers of K-Pop different artists. Listen to their rock covers of Playing with Fire by BLACKPINK, Growl by EXO, I Need U by BTS, Like Ooh-Ahh by TWICE, Gashina by Sunmi and many more.
Are you excited to meet the boys of N.Flying? Watch them live on October 28, 2017 at the Circuit Events Ground Makati for K-Pop Republic 2! Tickets are available at all SM Ticket and Ticketnet outlets nationwide. Also, be sure to follow the official Facebook page of K-Pop Republic for SVIP and VIP perks and updates!
---
Special thanks to Clara Palma and her friend @ulthaknyeon for the music recommendations and profiles!