The fandoms of three K-Pop boy groups rose to the top of the Philippines' Twitter trends at the start of the second round of the 14th Annual Soompi Awards' Best Fandom Twitter battle!
RELATED: #TwitterBestFandom, #SoompiAwards take over PH trending list
The second half of the Best Fandom Twitter voting began Saturday night, March 16, 8PM KST. It will end after 24 hours on Sunday, March 17.
The first round, which was held from March 2, 8PM KST to march 3, 8PM KST saw #TeamEXO at the top followed by #TeamBTS, #TeamGOT7, #TeamWannaOne, and #TeamNCT.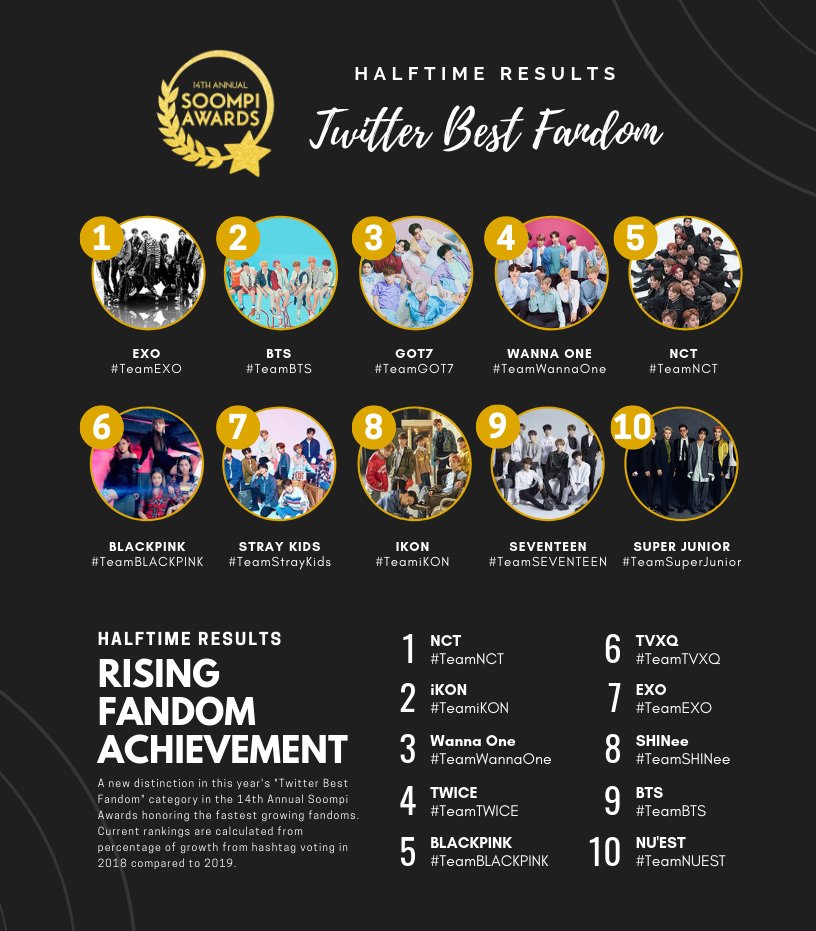 The Best Fandom Twitter battle is a Twitter-only voting event of the Soompi Awards. For two 24-hour periods—March 2 and March 16, 8PM KST—K-Pop fans will vote by tweeting #TwitterBestFandom along with #Team____, the blank filled in with the K-Pop artist's name. There are no restrictions in the amount of votes. Last year, the Best Fandom Twitter battle gained over 40 million votes.
For the first time, Soompi Awards will be awarding two categories for the Twitter Best Fandom, the Twitter Best Fandom Award for the highest number of overall votes, and Rising Fandom Achievement for the highest growth in votes compared to 2018.