The Korean Cultural Center of the Philippines will hold a special film screening in celebration of the centennial anniversary of the Republic of Korea's March 1 Independence Movement and Korea provisional government on April 6 and 7, 2019 at the Shangri-La Plaza Cinema 4.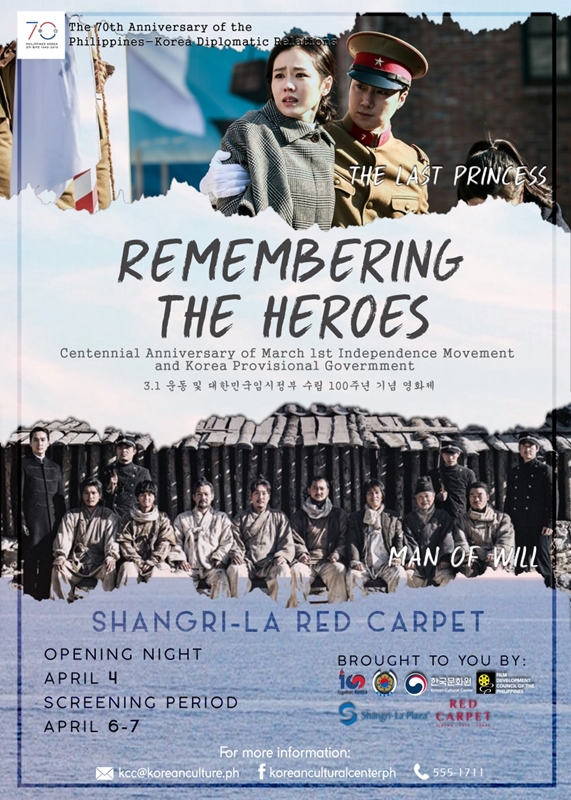 Titled "Remembering the Heroes," the special screening will feature two films showing stories of people who fought for the freedom of the Korean people: "Man of Will" and "The Last Princess."
"Man of Will" is about Young Kim Chang-Soom, a man charged with murdering a Japanese man who took part in Empress Myeongseong's assassination. Inside the prison, he sees how Koreans are persecuted and grows into a fighter for Korean independence.
"The Last Princess" is about Princess Deokhye, the last princess of the Joseon Dynasty who was taken to Japan as a hostage. As she struggles to maintain hope of the Korean people, her childhood friend travels to Japan on a mission to bring her back to Korea.
Korea's Independence Movement Day or Samiljeol (삼일절) is a public holiday in Korea remembering the non-violent street protests that took place on March 1, 1919, one of the earliest public demonstrations of Korean resistance during the Japanese occupation. This was followed by the establishment of the Korea Provisional Government in Shanghai, China on April 11, 1919.
"Remembering the Heroes" is organized in partnership with the Film Development Council of the Philippines, the Embassy of the Republic of Korea in the Philippines, and Shangri-la Plaza. It is part of the year-long celebration event for the 70th year of the Philippines and Korea bilateral relations.
Admission to the film screening is free. For more details, visit http://phil.korean-culture.org/.