Update as of September 24, 2019:
PULP Live World released the seating plan, ticket prices, and royalty package details for DAY6 World Tour "Gravity" in Manila.
Ticket prices are pegged at PHP 13,500 (Seated and Standing Royalty), PHP 9,500 (VIP Standing), PHP 7,500 (VIP Seated), PHP 5,500 (Box A), PHP 3,500 (Box B), and PHP 2,500 (Upper Box). Prices are exclusive of ticketing charges.
Ticketing begins on October 27, 12NN at all TicketNet outlets and online.
About DAY6
Since their debut in 2015, DAY6 have been capturing the hearts of crowds everywhere with their first EP The Day, which carried the lead single "Congratulations." Soon after, they have emerged as a global sensation, touring countries like Japan and the US. Having multiple award nominations under their belt, as well as an MBC Plus X Genie Music Band Music Award win for "Shoot Me," DAY6 have quickly become a household name in both the Korean music scene and the global stage.
With their new EP, The Book of Us: Gravity in tow, the band is now, more than ever, ready to once again make waves all around the world. The latest EP is considered as one of the fastest-selling sets this year as it reached No. 9 on Billboard's World Album Charts, selling over 1,000 copies in America immediately after its release. My Days (DAY6 fan club name) are sure to relate to this EP as it vividly explores one's personal journey and self-discovery, also delving into human relationships.
Their Gravity tour, named after their EP, is nothing short of an overwhelming emotional experience, with DAY6 tackling the different struggles that everyone faces while growing up. Whether it's about the nuances of falling in love or the intricacies of getting older, Filipino My Days will definitely feel their hearts swell as the band delivers wave after wave of hits new and old, all of them sure to make a pretty big impact on all our senses.
Original article:
Korean pop rock band DAY6 is returning to Manila on November 23 for their world tour!
On July 1 evening, DAY6 through their social media accounts, announced the stops and dates for their World Tour "Gravity." It will kick off in Seoul on August 9 to 11 and will tour in the United States and Australia first before returning to Asia. Manila will be the first of the Southeast Asian stops.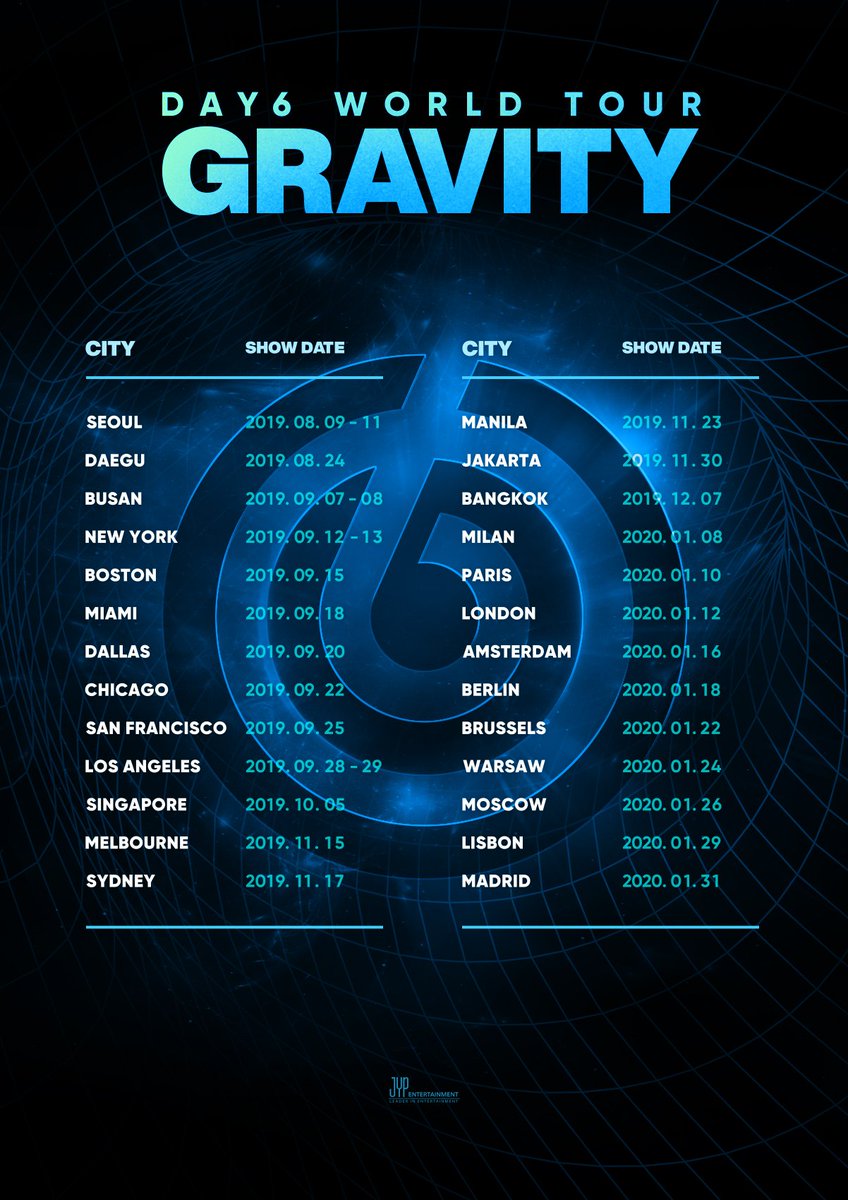 READ ALSO: DAY6 thanks PH fans for an "unforgettable" Manila concert
As of writing time, there is no announced organizer for the Manila stop. The five-piece band last held their concert in the country on October 6, 2018 for their "Youth" First World Tour at the Kia Theater in Quezon City.
Filipino MyDays, are you ready for DAY6's return to Manila?