GOT7 is making their highly-anticipated return to the Philippines with 2019 KEEP SPINNING IN MANILA. And we are just excited as you are in seeing them perform live on October 26 at the Mall of Asia Arena!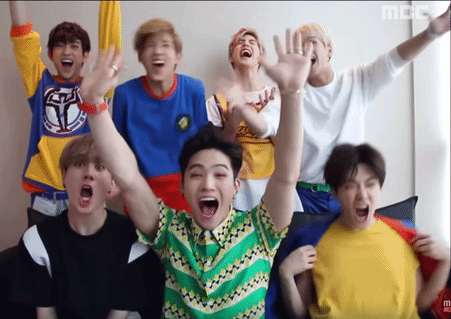 For those who have been fans of the group for a long time, this will be GOT7's first major concert in the country. In addition, Manila is privileged to be the last concert stop of the year for the group! (The boys will continue touring in other Asian cities beginning February 2020.)
So what makes #GOT7KeepSpinninginMNL so exciting? We list seven reasons why:
1. It's been three years since the group visited the country.
GOT7 held its TURBULENCE FAN MEETING in Cebu and Manila back in 2016. (Trivia: They were the first K-Pop group to hold a solo fan meeting in Cebu.) Since then, the Philippines has been left out on the group's world tours. So finally, the wait is over for PH ahgases!
2. Expect the boys to perform their self-composed songs.
Aside from being amazing performers, the boys are their own composers and lyricists. JB, Youngjae, and Yugyeom have their Soundcloud accounts, where they upload their music apart from GOT7. Jackson recently dropped his first solo album, "Mirrors". Jinyoung, Mark, and BamBam have all contributed songs in their various albums.
Seriously, what do these boys can not do?
3. The boys are not only artists. They're also … crackheads.
If you have watched any variety show of GOT7, chances are, more years are added to your life because of laughter. Jokes aside, the boys are not ashamed to shed their funny sides even on stage. We don't know what the boys have in store for Manila, but we definitely have to be ready for their hilarious antics.
4. Visuals. Visuals. Visuals.
When they are not being crackheads, GOT7 is composed seven gorgeous men. All of them have their unique charms, which make them all the more handsome.
(Trivia: In a recent survey by Korean media outlet, Ilgan Sports, idol groups Jinyoung ranked fourth in the list of Most Beautiful Male Idols. The list included Cha Eun Woo (ASTRO), V (BTS), Minhyun (NU'EST), and Juyeon (The Boyz).)
5. They are kings of fan service.
Ahgases know this well – GOT7 and IGOT7s share a unique "relationship" that is uncommon between fans and artists. Give them tons of love and ready your hearts for their cheesy and crazy fan service!
6. We can't wait what other Filipino foods they've tried, and what other Filipino words they've learned.
In their first fan meeting in 2015, the members have expressed their love for Filipino delicacies. This writer remembered how Jackson absolutely loved our mangoes (and even learned to say, "Gusto ko kumain [ng] mangga."), when BamBam referred our Kare-Kare as Peanut Soup, and when Mark tasted Crispy Pata.
And did you know that rapper BamBam belted the chorus of Ronnie Liang's "Ngiti"? Fingers crossed that they would surprise the fans with another Filipino song!
7. The Passionate Pinoy Ahgase Welcome
Filipino ahgases have been waiting for GOT7's return to the Philippines, and it was evident during the ticket-selling that fans have been anticipating for their return. In fact, the concert is already sold out!
We are looking forward to how Filipino ahgases will give a warm Filipino welcome to the boys.
GOT7 Keep Spinning in Manila 2019 will be happening on October 26 at the Mall of Asia Arena. This event is presented by PULP Live World, Live Nation, Asiana Airlines, and Globe.