We know Im Hyunsik—or just Hyunsik—as a member of male idol group BTOB. Since his debut with the group in 2012, Hyunsik has charmed Melodys around the world with his adorable eye smile, amazing vocals, and overall dorkiness.
Now, PH Melodys will be seeing him for his solo fan meeting in Manila! As we get ready for D-Day, let's took at some of the reasons why we're in love with Hyunsik!
The Main Dancer with the Voice of an Angel
Hyunsik debuted on BTOB as the main dancer, but he blew everyone away with his angelic, husky voice. He was even part of the group's subunit, BtoB Blue, alongside fellow vocalists Eunkwang, Changsub, and Sungjae.
His Musical Inclinations
As the son of famous South Korean folk singer Im Jihoon, it's no surprise that Hyunsik pursued the path of music. From singing to composing, clearly the talent is in the Im genes.
Aside from his vocal skills, Hyunsik is an amazing composer. He has composed a ton of songs for his group alone, including "I Don't Know" from their EP Move and "I Miss You" from their EP Complete. He is also the credited co-producer and co-lyricist for the title track "Pray (I'll Be Your Man)."
Like many composers, Hyunsik is skilled with different musical instruments. He can play the piano and guitar.
King of Strength
BtoB members ranked Hyunsik as the strongest when it comes to arm wrestling. They commented that arm wrestling with him is "like wrestling with a brick wall."
I mean, look at those arms:
And remember when he beat Ricky of TEEN TOP at Korean wrestling?
Multilingual King
Having studied in Shanghai for two years, Hyunsik is skilled in speaking Mandarin.
He can also sing English songs perfectly.
And remember when he and Eunkwang sang "Anak" by Freddie Aguilar at the OneK Concert in Manila? Multilingual king, indeed!
Hyunsik and His Body Full of Art
Hyunsik has a total of five tattoos on his body, and each one has a special meaning to him. The most prominent one is the one on his right arm, which means friendship.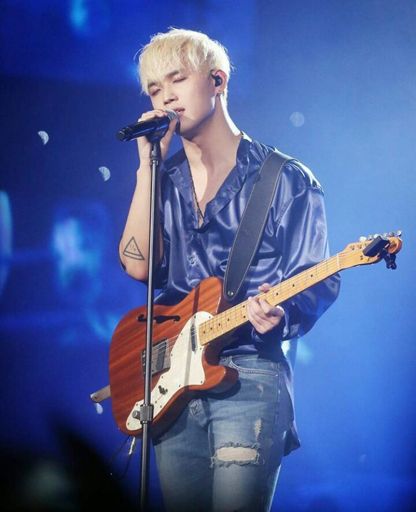 He also has an "M" tattoo on his arm, which supposedly means "Melody," for his fans. Aww!
We're excited to see Hyunsik in Manila. Are you?
Catch Im Hyunsik at his Dear Melody Fan Meeting in Manila on December 22 at the New Frontier Theater. Tickets are available at TicketNet online and at outlets nationwide.
This event is presented by CDM Entertainment.
| READ ALSO: BTOB's Lim Hyunsik is coming to Manila!