Written by Andy Flores
We are turning the spotlight on Kim Myung Soo as we count down the days to his upcoming fan meeting in Manila on January 12 at the New Frontier Theater.
Rising to popularity after his debut as L under the boy group INFINITE in 2010, Myung Soo enjoyed widespread fame for his and his group's synchronized, knife-like dance moves and crisp live vocals.
Although there's probably no character he has played longer than that of the "cold city guy" in his band, Myung Soo has taken on various acting roles even while promoting with his group, making a name for himself in K-Drama land. Now, he's not only known as L of INFINITE, but also as Kim Myung Soo, an actor.
Here, we took the liberty of ranking 10 of his most memorable drama roles, from our least to most favorite:
10. Jiu, Jiu: Special Investigation Team (2011)
Myung Soo made his acting debut in a Japanese drama called Jiu: Special Investigation Team. He played the titular character, whom he described as an "innocent and lonely kid" who eventually became the heartless mastermind behind a series of brutal crimes.
While Myung Soo's role was minor—showing up only on a few scenes that involved him orchestrating or executing a murder, as well as on the climactic scene toward the ending—it marked the first of many diverse projects he'll be taking on in his acting career. Not to mention, it also sprouted a long-running—and rather embarrassing—inside joke among INFINITE members and Inspirits (the fans of the group). It's alright, Myung Soo, we love you.
9. Young Joo Jong Won, Master's Sun (2013)
In Master's Sun, Myung Soo plays the younger version of So Ji Sub's character, Joo Joong Won, an arrogant CEO who was scarred by a traumatizing incident from years ago.
Although his role appeared mainly in flashbacks, Myung Soo did his best to deliver a performance that would give viewers a clear glimpse of the leading man's troubled past and make them understand why he turned out that way.
8. Ki Sung Jae, The Time We Were Not in Love (2015)
Myung Soo makes a short yet delightful appearance in The Time We Were Not in Love as a charismatic young intern who makes career woman Oh Ha Na's (Ha Ji Won) heart flutter. His seemingly sweet gestures have hidden intentions, though.
7. Gil Yo Han, Cunning Single Lady (2014)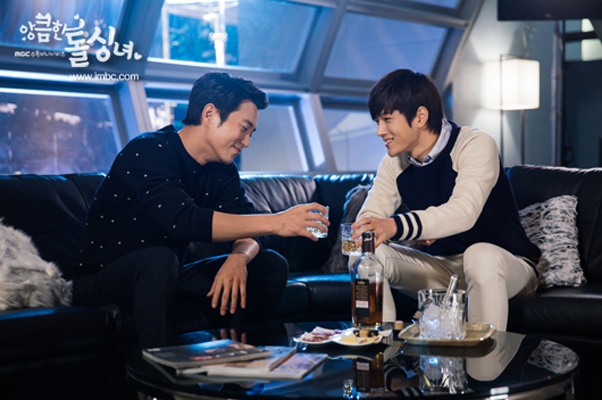 We get to see Myung Soo's fun side in Cunning Single Lady.
In this romantic comedy, he takes on the role of Gil Yo Han, the close friend and personal secretary of Cha Jung Woo (Joo Sang Wook), an IT developer who hit it big. The two actors' pairing showed so much bromance, that their ship could easily rival that of the leading couple's!
6. Yoo Tan, One More Time (2016)
Myung Soo finally lands his first leading role in this Netflix-exclusive series as Yoo Tan, an ambitious and hot-tempered band leader in need of a fresh start.
In an interesting turn of events, he gets just what he wished for, but with a catch—he is seemingly trapped in a time warp and is faced with the task of saving his ill-fated girlfriend (Yoon So Hee).
5. Shi Woo, My Lovely Girl (2014)
In My Lovely Girl, Myung Soo gives viewers a serious case of Second Lead Syndrome, playing an almost-familiar role as Shi Woo, a member of boy band Infinite Power (former INFINITE member Hoya and Golden Child members Daeyeol and Y make a cameo as 3/4 of the fictional idol group).
Conceited and cranky in the beginning, Shi Woo begins to soften and develop feelings for aspiring songwriter Yoon Se Na (f(x)'s Kystal), hoping to win her heart over his company's aloof President, Hyun Wook (Rain).
4. Lee Sun, Ruler: Master of the Mask (2017)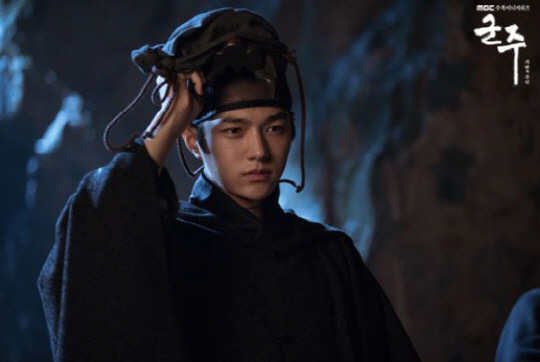 Considered as Myung Soo's breakthrough drama, Ruler: Master of the Mask allowed Myung Soo to take on a more challenging role.
In this historical drama, he plays a strong-willed commoner who shares the same name as the Crown Prince Lee Sun (Yoo Seung Ho). The two strike an unlikely friendship that turns into a life-threatening deal in which commoner Lee Sun has to pretend to be the Prince while the latter fights against the many injustices that taints their kingdom.
Delivering heart-wrenching scenes an episode after another—including one in which he is subjected to torture by the King—Myung Soo bagged two trophies at the 2017 MBC Drama Awards, namely the Popularity Award and Best Character Award in Fighting Spirit Acting, proving that he's an up-and-coming actor to watch out for.
3. Lee Hyun Soo, Shut Up! Flower Boy Band (2012)
Shut Up! Flower Boy Band is one of those dramas we'd like to call old but gold. After all, what's not to love about a drama featuring cool, good-looking guys, great original music, and a heart-tugging storyline? It also marks Myung Soo's Korean drama debut.
In the series, he stars alongside Lee Min Ki, Sung Joon, Kim Min Seok, Lee Hyun Jae, and Yoo Min Kyu, playing the role of Lee Hyun Soo, the chic guitarist of underground rock band Eye Candy. Together, they strive to find a place in society where their brand of music will be heard and appreciated.
Albeit taking on a supporting role, Myung Soo got his own story arc as a loving brother to his ailing sister and a loyal friend to his bandmates, plus an OST to boot (yep, we've still got "Love U, Like U" on our playlist!).
2. Im Ba Reun, Miss Hammurabi (2018)
As Myung Soo's acting career progressed, the more varied his roles became. In 2018, he added yet another interesting character under his belt. Joining Go Ara and Sung Dong Il in the legal drama Miss Hammurabi, he took on the level-headed judge Im Ba Reun.
A drama based on a critically acclaimed novel written by a real judge, it presents a wide array of courtroom stories that can be shocking, heart-rendering, or just downright relatable.
In the middle of it all is the calm and collected Ba Reun, often putting balance to scenes between a feisty rookie judge and a seasoned but grouchy presiding judge.
He also gets his fair share of moments in which he reveals a side to him that isn't seen in court, especially during tender conversations with his mother or at times when he's being an awkward bookish guy who just can't seem to impress the girl he likes.
While most initially deemed his role a miscast, Myung Soo proved otherwise, effortlessly bringing the air of dignity and composure of a judge to his character in Miss Hammurabi. A must-see? Definitely.
1. Kim Dan, Angel's Last Mission: Love (2019)
Topping our list is Myung Soo's most recent role in the KBS fantasy-romance Angel's Last Mission: Love, which won him a total of three awards at the recent 2019 KBS Drama Awards—the most accolades he has received in a single ceremony so far. He was awarded Best New Actor, K-Drama Hallyu Star, and Best Couple, which he shares with his leading lady Shin Hye Sun.
In the series billed as South Korea's first ballet drama recognized by the Korea Ballet Association, Myung Soo charms us as Kim Dan, a happy-go-lucky angel, who always finds himself causing mischief one way or another.
Just a day away from entering Paradise, he comes into the life of prickly ballerina Yeon Seo (Shin Hye Sun), unknowingly giving himself one last mission before "going up." In order for the gates of Heaven to reopen for him, he has to help Yeon Seo get back to her feet—literally—and make her fall in love. (Spoiler alert: They eventually fall for each other.)
Perhaps, Kim Dan is Kim Myung Soo like you've never seen before. He's fun-loving and rather naïve, but also determined. He can be annoyingly adorable, and he can also rip your heart to pieces during ugly cry-worthy scenes. Above all, he's pitched himself as an all-around romantic guy, who likes throwing little surprises to shake the mundane and revels in every second he gets to spend with the person he loves most, Yeon Seo.
Angel's Last Mission: Love is Myung Soo's most swoon-worthy drama yet, and with his fiery chemistry with Shin Hye Sun, Kim Dan's journey with Yeon Seo (backed by what is possibly one of the best K-Drama OSTs ever) is absolutely an emotional rollercoaster ride we wouldn't mind riding over and over again.
Watch out for: Hong Jo, Welcome (2020)
Kim Myung Soo will make his drama comeback in March 2020 as Hong Jo in another fantasy-romance titled Welcome. Based on a popular webtoon, it follows the story of outgoing webcomic artist Sol Ah (Shin Ye Eun) and her cat Hong Jo, who can transform into a human being. Shenanigans ensue as the two get caught up in sticky situations together.
Excited to welcome Kim Myung Soo back in Manila? Catch him on January 12, Sunday, at the New Frontier Theater for his Come With Me Fan Meeting in Manila! Tickets are still available at TicketNet Online and TicketNet outlets nationwide.
The 2020 Kim Myung Soo "Come With Me" Fan Meeting in Manila is presented by 2Sang and Applewood; and promoted by CDM Entertainment.