Being a K-Pop fan is perhaps one of the best things that happened to our lives. It is not always sunny in the world of K-Pop, sure, but it's difficult to imagine just how boring life would be without it. Yes, K-Pop fans scream for pretty idols and spend a lot of money for one-night-only concerts and truckloads of merchandise─something that a lot of people outside the fandom don't seem to understand. On the surface level, that's what we are. Not everyone would appreciate the passion that we have for our K-Pop boys and girls and why we look up to them so much.
Actually, there is more to K-Pop than the memes, the fancams, and the flashy MVs. After slipping into the K-Pop blackhole for a long time, one would learn that apart from music, fashion, and entertainment, the Korean pop culture also brought us inspiration and life lessons. Between the lines, there are values we can learn from K-Pop.
Respect
"Why do you even listen to K-Pop? You don't understand what the songs are all about." "You only like them for their good looks and their abs."
For sure, most of us have heard these words at one point since we started liking K-Pop. There is a lot of judgment, and soon it becomes tiring to explain. After all, as long as we're happy and not stepping down on others, there's no point in clarifying why we've fallen in love with this music genre and everything that comes with it. We just do.
At the same time, those very judgments we received taught us to be understanding why other people like the things they do. Those things might seem weird at first, but like our fascination with K-Pop, they must have their own reasons, too. Just because something doesn't match our standards doesn't mean those things are useless or nonsense. Those things impact their lives as much as K-Pop influences us. 
From within the K-Pop world, however, we sometimes cannot escape rifts coming from some of our fellow fans. But there's no use debating which group is the best amongst the bands that have appeared (and have gone) since the inception of K-Pop. These groups have individual talents and charms that appeal to different kinds of people. 
We might not come from the same fandom, but we should maintain our respect for one another. To the eyes of ARMYs, BTS is the best, of course, but ARMYs can't possibly blame EXO-Ls for thinking it's EXO, and vice versa. So you like Red Velvet but not Blackpink or Twice? That's alright. I like DAY6 and don't really follow N.Flying, but I respect N.Fia because I'm sure they have a lengthy answer as to why they picked that fandom, just as I have a reason for choosing to become a MyDay. Please be kind to multi-fans.
Also, keep the comments section peaceful and civil. Spread love and not hate! 😉 
Teamwork
Many K-Pop idols are bundled together in groups, and it's always great to see their team dynamics. Sometimes, the leader gets lovingly "bullied" by the younger members; sometimes, the maknae controls the hyung and unnie into submission. There's always a member who acts as the MC in variety shows, someone who picks up after the member's mess in the dorm, and a chef who prepares edible meals for the team without burning the house down. Someone pens the song lyrics, while a member produces the bops and another who choreographs for said bops. Someone pops their veins in reaching the high notes; someone spits out the stormy raps; and someone pulls off the most complicated moves onstage. 
K-Pop has shown us that everyone has a role in a group, no matter how big or small it is. Having a useless member is a myth because each one has a contribution. We might not be in a K-Pop group, but we can easily apply this in our own teams at school or at work. Flawless teamwork is what makes a group successful.
Friendship
Our favorite idols might be assembled together for business, strictly speaking, and some of them might even come from different companies or "rival" groups, but at the end of the day, they are friends who cherish each other. They even refer to themselves as family. They are normal people, much like you and me, and it's one part of human nature to want to connect to someone and find a sense of belongingness.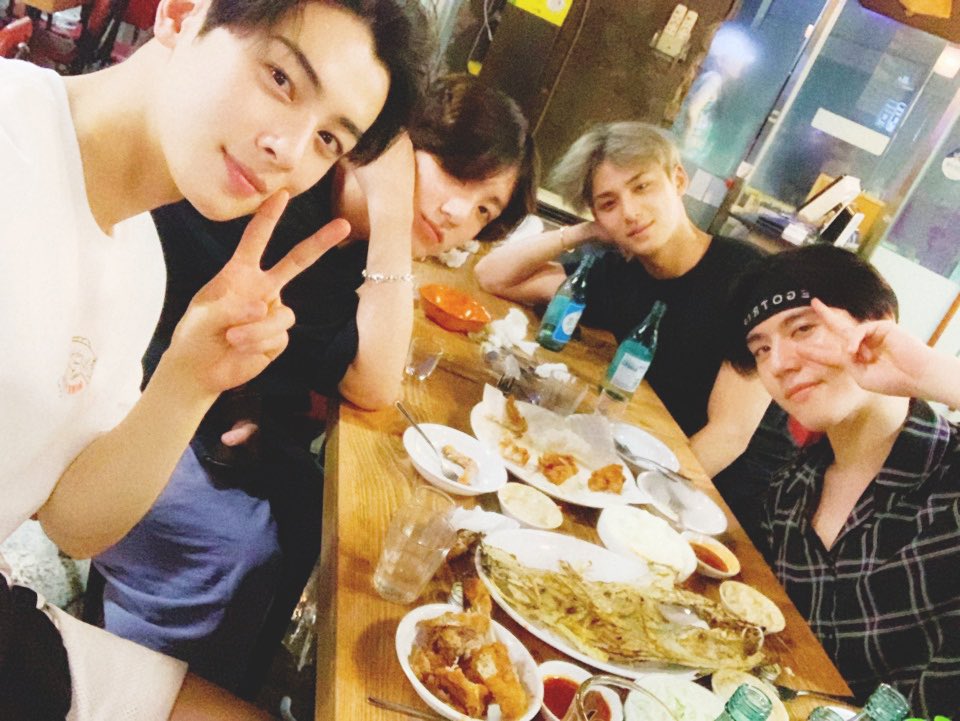 K-Pop fans are way too exposed to such beautiful bonds, and they inspire us to value our own friendships a lot more. We can't be in the Padding Squad (consisting of SHINee's Taemin, EXO's Kai, BTS' Jimin, VIXX's Ravi, and HOTSHOT's Timoteo and Ha Sungwoon) or in the '97-Line friends (with BTS' Jungkook, ASTRO's Cha Eun Woo, Seventeen's Mingyu, NCT's Jaehyun, and GOT7's Yugyeom), but all have our own sets of friends who are important and dear to us like brothers and sisters. 
Passion and dedication
When you pull up the search results for K-Pop idols that trained the longest, you'll learn it's G.Soul, who trained for 15 years under JYP Entertainment before finally making his solo debut in 2015. Jihyo was a trainee for a decade before being picked as Twice's leader.
And then there are multinational idols who took the risk to leave their home countries to be able to debut in South Korea. Han Geng was known as the first Chinese K-Pop idol before he left Super Junior, 2PM's Nichkhun is the first from Thailand, and Cross Gene's former leader Takuya is said to be the first Japanese K-Pop idol. Alex Reid, formerly of Rania, was the first African-American to debut in a K-Pop group. From the Philippines, we have soloist Kriesha Chu and ZPOP's Carlyn and Josh. There's so many; we can't possibly list them all here. 
All these K-Pop idols braved the long training period or ventured in a foreign land for a single dream of becoming a performer. They all have their individual stories from which we could all learn from. 
We don't have to be dreaming of being a K-Pop idol to appreciate their passion and dedication. We could be an aspiring doctor, journalist, or teacher, but these idols' journey to be who they are right now has become an inspiration for many of us─that through hard work and despite the difficult road ahead, nothing is impossible. Just like them, we should pour all our effort and give our 100% for that one goal we want to achieve.
Discipline
Just as passion and dedication can make our dreams a reality, discipline is what keeps us there. That's what our K-pop boys and girls have taught us.
Shinhwa is known as the longest-running group, traversing all K-Pop generations since 1998. They've been together for 22 years with the original lineup — and when you think about it, their career is as old as GFriend's SinB and Umji and Seventeen's Seungkwan and Vernon, for example. The group has been through a lot, but they've endured, thus allowing them to stay as one of the most iconic K-Pop idols we have today.
Sometimes, our aspirations would require our blood and sweat. Things may be difficult, but as they say, "If it was easy, everyone would do it." It takes a great amount of self-discipline to stay in our chosen career path and to keep improving in it as we go along. When we love what we're doing, we can endure the hardships and keep striving. Good thing, we K-Pop fans don't run out of role models to take inspiration from!
What are the lessons you learned from your favorite K-Pop idols? Share with us in the comments!